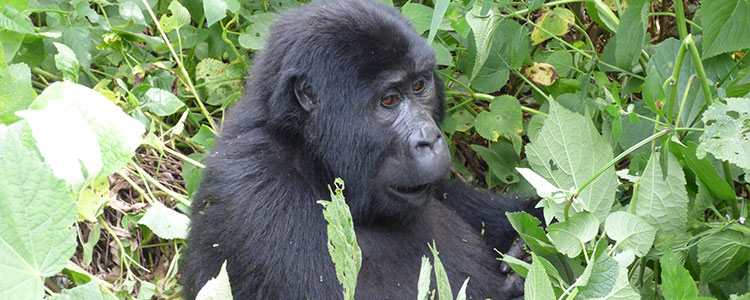 Day 1: Transfer to Nyungwe:
Depart from Kigali; en-route visit some historical sites on the main road like Kamegeri's rock etc. Check in the hotel and refresh before you go for a late afternoon drive at the tea plantations to see some pri-mates. Overnight at Gisakura Guest House.
Day 2: NYUNGWE NATIONAL PARK:
Early breakfast (4:45am); then drive to the chimp trekking point. After trekking, drive to
Rusizi – check in and have lunch at the hotel. Some time to relax after trekking chimps.
Overnight at Hotel du Lac.

Day 3: KIBUYE: Transfer to Kibuye; visit
Napoleon's hut and Amahoro "Peace" Islands – Enjoy fried Kivu fish and potatoes on the island plus some cold drinks of your choice. Swimming is optional to any interested member/guest.
Overnight at Bethane Hotel.
Day 4: RUHENGERI:
Transfer to Ruhengeri. En-route visit the twin lakes. Overnight at recommended hotel..
Day 5: VOLCANOES NATIONAL PARK:
Early breakfast (5:30am); – start gorilla trekking procedures at 6:30am at the park headquarters. After gorilla trekking, refresh and drive to Kinigi cultural village to enjoy the Batwa dance. Overnight at recommended hotel.
Day 6: Banana and Sorghum beer production
Banana and sorghum are some of our staple Food products in Rwanda and they are used in different ways i.e.as food, local beer/drinks and very important in the cultural practices most especially during our traditional weddings ceremonies, settling of disputes between community members, bonding relationship between different families etc. Rwanda has four common species of banana plants and each species of banana plant has got unique uses and value. practically, you will learn and understand while in the field.
Sorghum production is quite complicated but made simple to experience and really a thrilling experience. Transfer to Gisenyi – check in the hotel. Drive around Gisenyi town as we head to Rubona fishing village to experience the lifestyle of fishermen and also watch the hot springs. Swimming is optional in the lake. Overnight at Parades Malahide Hotel.
Day 7: FAREWELL – KIGALI:
Transfer to Kigali – enroute do shopping. Check Caplaki market for more souvenirs. Dinner at Republica restaurant.