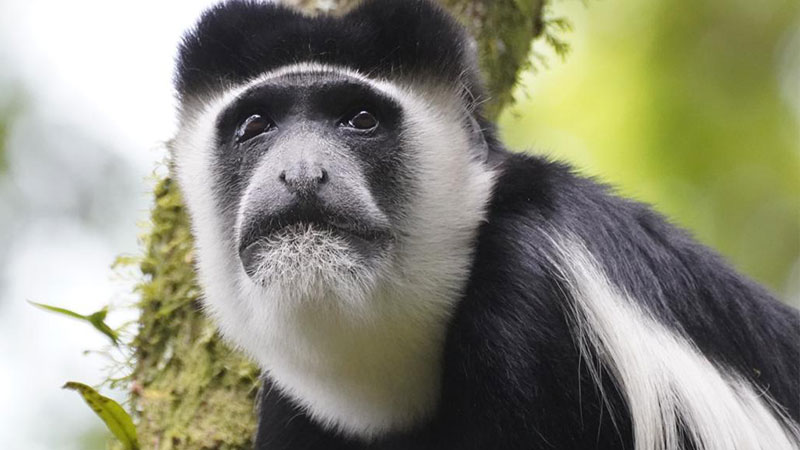 Day 1: Transfer to Kibale forest National Park
Depart your accommodations in Kampala at 7 am for Kibale Forest. A tropical forest that is a jungle and has so many great surprises in store for you. The journey is a pleasant through various regions of Uganda. The Rwenzori Mountains will be seen in the distance as you approach Kibale Forest. Lunch along the way Check into Kibale Forest Camp, which gives you the unique experience of a Tented Camp in the Jungle. Seven African Safari Style Tents, all self-contained are in this small camp, where you will not be a mere room number, but a person with a name.
Get situated in your tent and settled in. Enjoy the late afternoon on the verandah of your tent, take a walk around the camp and discover some of the 300 plus species of birds found here at Kibale Forest.
Dinner in the jungle of Kibale Forest – the food here is delightful and thoughtfully prepared, the presentation is simply lovely. Nocturnal Walk in the Jungle – This is simply an awesome experience. Uganda Wildlife Authority Guides guide you through Kibale Forest and there are spotlights. Bush babies and Pottos are often found with their big eyes and other nocturnal animals.
Day 2: Chimpanzee tracking Kibale
Breakfast at Kibale Forest Camp and off to Kibale Forest Headquarters for Chimpanzee Tracking. This is a guided walk and with 13 primates in the park, one usually finds at least five or six different types of primates. Then there is the forest itself with its beauty and ruggedness. Butterflies and exotic birds abound in this park and the tracking experience takes in a lot more than Chimpanzee tracking. The chimpanzees you will encounter are habituated meaning that they are used to human beings. Not all chimpanzees in the park are habituated. The process takes up to two years. Lunch at Kibale Forest Tented Camp.
Afternoon Walk at Bigodi Swamp Wetlands that is next to Kibale Forest and you just might see chimpanzees again and of course, many birds are found there including the Shoe-bill Stork. Kibale Forest is also home to Forest Elephants who are hairier and smaller than their Savannah cousins are. They also have smaller tusks that allows them to roam the forests. You can also find Forest Buffaloes that are redder in color than the ones on the Savannah.
Kibale Forest is a part of a migration corridor that extends through Queen Elizabeth Park into the Democratic Republic of Congo. Look at the toes of a forest Elephants if you have time. They have one more toe than do its Savannah cousins. Bigodi Swamp Wetlands is a community project that has been put together quite well and entrance and guide fees benefit the local community.
Day 3: Transfer from Kibale to Queen Elizabeth
Breakfast at Kibale Forest Camp and off for lunch at Queen Elizabeth Park where we check into another moderately priced but favorite amongst our guest who raves about the food – Bush Lodge Tented Camp. The location is overlooking the famous Kazinga Channel which is a natural channel connecting Prince Edward and Prince George. The tents are en-suite with bath in the back, a shower with two shower heads and each tent is elevated on a wooden platform and has a verandah. This again is a small and intimate camp.
Lunch at Bush Lodge Tented Camp and the food is great. After lunch a boat, ride on Kazinga Channel with the highest concentration of hippos in Africa. At one time, there were too many hippos and their grazing denuded the surrounding grasslands. Before independence, the wildlife authorities would cull them. The locals ate the meet and after Idi Amin came to power, poachers, soldiers, and again at the fall of Idi Amin, locals, rebels and soldiers shot many hippos.
There are also crocodiles, countless of birds on the shore and overhead and in the water of the channel. This is a pleasant boat ride where you can get some great pictures of elephants and buffaloes on shore. I hope that an open-mouthed hippo shot.
Day 4 : Game drive in Ishasha Plains
Breakfast at Bush Lodge Tented Camp and then we are off for an all-day Game Drive.
We drive south to the Ishasha Plains in search of the Tree Climbing Lions and other wildlife. This is a more deserted section of the park but is home to over 40 tree-climbing lions, lots of elephants, antelopes, buffaloes, birds, some monkeys, baboons, and more.
We will have a Uganda Wildlife Authority Guide to assist us in finding the wildlife and pointing out various animals to you while the driver drives and makes sure you are comfortable. Our Safari vehicle will allow you to stand on the seat and look over the top, a beanbag is great for steady pictures. Return to Bush Tented Lodge for dinner and a quiet evening on your verandah.
Day 5: Morning game drive through Mweya & transfer to Kampala
Breakfast and morning game drive through the Mweya region of the park on a game drive in search of more lions, monitor lizards, maybe a python here or there, elephants, buffaloes, and herds of antelopes. Lunch at Bush Lodge Tented Camp and sadly, we must depart for Kampala. On the way, we stop at Lake Mburo, along the road and take pictures of Zebras, and then it is the Equator and if there is time the Buganda Royal Drum Makes.
Arrive around 7 pm at your lodging in Kampala.