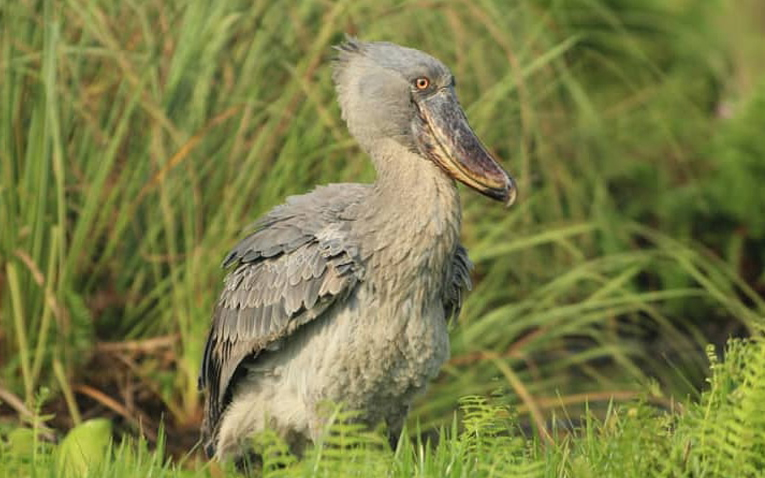 The 1 Day Mabamba Swamp Tour starts with breakfast at the hotel in Kampala or Entebbe and then drive to Mabamba village. Mabamba swamp is in Kasanje sub-county of Wakiso district in Uganda, about 50 kilometres southwest of Kampala and is north of Entebbe. This geographical feature is on the outskirts of the great Lake Victoria and covers 16,500 hectares. It inhabits a variety of swamp and waterbird species. This beautiful Mabamba swamp is known for being home to the rare shoebill stork adn a perfect gateway for a 1 day Birding Uganda Safari.  The shoebill stork is named after its shoe-shaped beak and is known to live in tropical African countries of Uganda, Rwanda, South Sudan, and Zambia among others. The adult is mainly grey while the juveniles are browner and majorly feeds on fish. The activity takes between 1 to 3 hours and is basically a birding trip. For birding experiences in Uganda, Mabamba is one of the places to go. Get into the boat and start the shoebill stork search as you enjoy the ride too. The local guide at Mabamba will help with navigation on the canoe through the swampy overgrown papyrus vegetation.
As you look for the Shoebill, look out for other bird species living around the swamp like; Angola Swallow, Swamp Flycatcher, Olive bellied Sunbird, Grey-rumped Swallow, Blue breasted Bee-eater,  African Jacana, African Fish Eagle, Long tailed Cormorant, Yellow billed Duck, , Black-winged Stilt, Malachite Kingfisher, Glossy Ibis, White-winged Tern, Hamerkop, White-faced Whistling-Duck, Spur-winged Goose, Knob-billed Duck, Little Stint, Great Cormorant, Grey-headed Gull, Spur-winged Lapwing, Black-winged Stilt, Madagascar Bee-eater,  White-faced Whistling-Duck, Spur-winged Goose, Knob-billed Duck, Little Stint, Great Cormorant, Grey-headed Gull, Spur-winged LapwingYellow-rumped Tinkerbird, Sooty Chat, Wayne's weaver, Grosbeak weaver and much more. The tour also offers spectacular scenic views of the surrounding green vegetation and landscape.
From Mabamba, transfer to a restaurant on the shores of Lake Victoria in Entebbe for lunch. As you have lunch, you will enjoy the cool and fresh air the great Lake Victoria gives, the sound of the waves and calming views of the lake.
While on this trip, you might consider doing other activities like a relaxing walk at Entebbe botanical garden that is a good birding spot with lots of trees and ambient environment or visit the Uganda wildlife education center, UWEC (zoo).
Our company driver guide will drop you at your hotel, and end of Mabamba Swamp Tour.