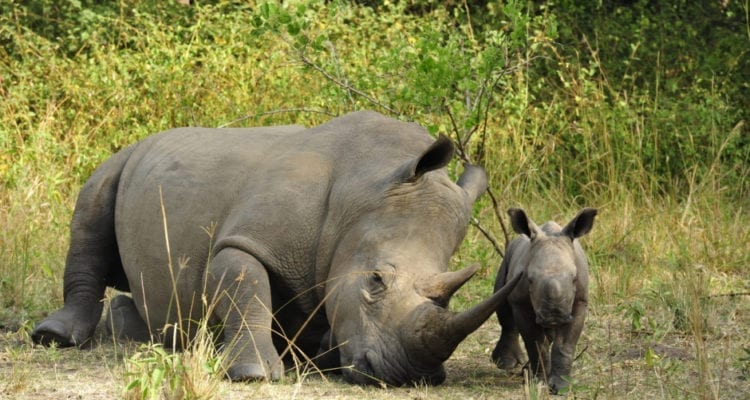 1 day Uganda Rhino tracking Safari starts from either Kampala or Entebbe with an early morning breakfast and at 6:30 am start the drive to Ziwa Rhino and Wildlife Sanctuary. The drive takes between 2-3 hours, when you are out of the city you will see Uganda's countryside, people's settlements and ways of life. Our company professional safari guide will explain more about the ways of life of the different tribes along the route.
The sanctuary is located in the Nakasongola district and is home to White Rhinos in Uganda. It is 176 kilometres north of Kampala on Gulu highway towards Murchison Falls National Park. The sanctuary is part of the great Murchison Falls Conservation Area. It is a project of Uganda Wildlife Authority and Rhino Fund Uganda. The sanctuary is the only place in Uganda where you get to see Rhinos in the wild. This sanctuary was established to breed black and White Rhinos and restore their populations in Uganda's protected areas at a later stage. Ziwa is currently home to about 22 white Rhinos and the number of rhino trackers is gradually increasing and is also home to other wildlife species.
At the sanctuary, the guide will do the clearance part and also get a ranger guide with whom you will set out into the savannah to look for the Rhinos. Rhino tracking takes 2 hours and makes sure you are always with the group at all times. Enjoy the walk and expect to spot different savannah bird species that live around the sanctuary. Expect to spot the Rhinos, feeding, resting and go about their daily activities. You are allowed to take photos of the Rhinos, BUT make sure your flashlight is off and also keep a safe distance away from the animals. Rhinos can be so aggressive and more so when they have babies.
Apart from tracking the rhinos, other activities done within the sanctuary include; Canoe ride and Shoebill stork search, nature walks (day and night) and bird watching. You may add one of these to the day program whenever possible.
Lunch will be at a restaurant around the sanctuary before you drive back to Kampala or Entebbe. Drop off will be at your accommodation or residence.