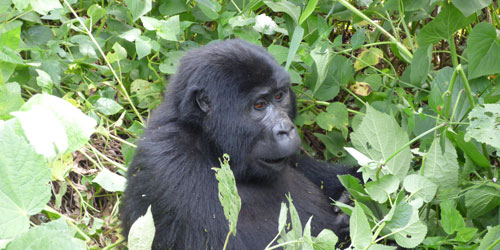 Our 5 Days Mountain Gorilla trekking at Bwindi Impenetrable Forest and Queen Elizabeth National Park is an 5 Days Uganda Wildlife Safari in the most visited Jungles of Africa, that sit at the edges of the pearl of Africa, with Queen being a tandem gem of tree climbing lions while Bwindi impenetrable forest being the world's leading destination with almost half of the worlds population of Mountain Gorillas.
Day 1: Arrival in Entebbe / Kampala
We begin our 5-day Safari in search of the endangered Mountain Gorillas of Uganda at Bwindi Impenetrable Forest and seeing Queen Elizabeth National Park and its wildlife. The journey is a pleasant one and our 4-wheel drive vehicle, your English-speaking driver will do his best so that you will enjoy the journey through the Ugandan countryside with lunch along the way in Mbarara. You will see many things prior to arriving at Bwindi Impenetrable Forest National Park.
We reach our destination late afternoon for rest, relaxation, and dinner at the Bwindi Impenetrable Forest Accommodation of your choice.
Some of the accommodations have great views of Bwindi Impenetrable Forest and or located right in the midst of the mountains; at times visitors even get a visit from the Gorillas or other Primates. Enjoy your night in an African Rain-forest with its sounds and sights. Here are some of the lodgings our clients have enjoyed the most up-market Gorilla Forest Camp, Gorilla Resort and Buhoma Lodge, Budget and moderate Buhoma Community Rest Camp have been consistent.
Day 2: Gorilla tracking Bwindi forest National Park
It is your big day to enter into Bwindi Impenetrable Forest where half of the Mountain Gorillas in the world live. First there is an orientation and then off with your team, not exceeding eight entering into the Forest for a day that can be from a few to eight hours. It is a rigorous climb, a light backpack, boots and jacket is advised. Take a packed lunch, you will need it. Porter assistance is available for a very reasonable fee. Some are glad that they availed themselves of it.
When you enter the presence of the Mountain Gorillas it is simply awesome, these huge primates ever so near you. Most people are deeply moved within by this experience of a lifetime. Optional: Take a local village walk accompanied by a guide who will give you insights into the daily life of the pygmies living near Bwindi. You will see them prepare local brew, medicine, food, and the highlight will be a traditional dance. Then it is time to return to your lodging and another night in the African Rainforest.
Day 3: Game drive and boat cruise in Queen Elizabeth
It is an early breakfast at which there will be a lot of sharing about the previous day and then it is off for Queen Elizabeth Park through the Ishasha sector with its tree climbing Lions and onward to the lodging of choice in or near the Mweya area of Queen Elizabeth National Park. We can stop a night here at Ishasha – the most recommended lodging would be Ishasha Wilderness Tented Camp, it is an up-market luxury tented camp overlooking the Itungwe River; fabulous, other choices here would be Savannah Resort.
Look at the accommodations available and make a choice. Our recommendation for its uniqueness is The Bush Lodge overlooking Kazinga Channel. A small intimate tented camp and there is nothing like sleeping in a Tented Camp in the Wilds of Uganda – recommended for the experience you will have and the food is quite nice here. After check-in, it is lunch and some rest around your accommodation. In some cases a swimming pool is available, most have an excellent view of Queen Elizabeth Park, the Rwenzori Mountains, Kazinga Channel or a lake. Queen Elizabeth National Park has lots of lions, elephants, various antelopes, leopards, buffaloes, hyenas, monkeys, you will be simply amazed.
Queen Elizabeth Park is a premier spot for wildlife in Uganda and you will see lots of it. The park is literally a kaleidoscope of scenic wonders such as crater lakes, an abundance of wildlife, of birds, all framed by the majestic Rwenzori Mountains in the distance which is the tallest Mountain Range in Africa. It is off for the evening game drive, keep your eyes open; your guide will not allow you to miss a thing from birds to wildlife, from trees to plants. Enjoy a quiet evening at your accommodation with dinner and sleeping surrounded by the wildlife of Queen Elizabeth National Park.
Day 4: Another Game drive in Queen Elizabeth
Breakfast in the African wilderness overlooking the African Savannah and you are off for the second game drive at Queen Elizabeth Park. Seeing lions on their way back from the hunt of the night, Elephants lumbering along. Warthogs running back and forth with their tails raised up high. Raptors flying overhead and the ever there Rwenzori Mountains. Then it is back to your lodging for rest and lunch. Put some new batteries into your camera for soon you will be going on an afternoon launch trip on the Kazinga Channel, which runs for 40 kilometers between Prince George and Prince Edward Lakes.
Here you are on a boat cruising the channel with its many Hippopotamus, birds, and buffaloes. Nothing like the swarms of pelicans on the shore, birds flying everywhere and you on this boat slowly moving along the shore. An awesome afternoon to say the least. Afterwards back to your lodging facility for dinner and a quiet evening at your accommodation in the midst of the African Savannah.
Day 5: Chimpanzee tracking Kyambura Gorge
Breakfast and for an exciting morning of Chimpanzee Tracking in the Kyambura Gorge. Kyambura Gorge alone is worth a visit, add on top of that spending an hour with chimpanzees that are found there. Lunch at your lodging. Return to Kampala Reach Kampala in the early evening hours.