Our 1 day Jinja tour, jinja was once the capital city of Uganda. The mighty River Nile starts its long journey of 4000 miles to the Mediterranean sea from Jinja. The Owen Falls Dam that provides the whole Uganda with Hydro Electricity is located downstream from the source of the Nile in Jinja.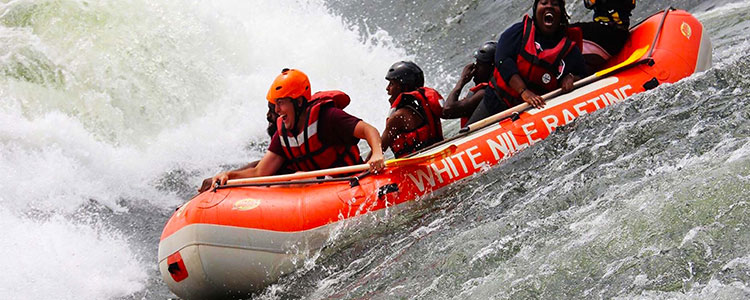 highlights for 1 day Jinja tour
Source of the Nile
Bujjagali falls
Owen falls Dam
Sugar cane and Tea plantations
Mabira forest
Sezibwa falls
Source of the Mighty Nile / 1 day Jinja tour
The source of the Nile, alluded to hazily in the ancient writings of Ptolemy, stood as one of the great geographical mysteries o the Victorian age. The desire to uncover this geographic Holy Grail inspired the epic journey of exploration undertaken by Livingstone, Stanley, Burton and Speke. And it was the latter John Hannington Speke, on pioneering 1862 – 3 expedition around Lake Victoria , who first controversially suggested that a small waterfall flowing northward out of the Lake might be the legendary spring – theory whose accuracy was confirmed more than ten years later by Stanley.
Flanked today by the city of Jinja, the waterfall described by Speke now lies submerged beneath the Owen Falls Dam, Uganda's main source of hydroelectric power .Still, a visit to the source of the Nile remains a moving and wondrous experience, no less so to those who have seen the same river as it flows past the ancient Egyptian temples of Luxor some 6,000 Km downstream.
White water rafting experience
Closer to home, the Nile downriver from Jinja offers some superb white water rafting and game fishing .It is crowning glory, however, is Murchison falls where the world's longest river funnels through a narrow fissure in the rift Escarpment to erupt out of the other side in a crashing 43 meters plume of white water .The river below the falls is no less spectacular in its own way, with its profuse bird life, thousands of hippos, and out sized, gape mouthed crocodiles.
You will be picked up in the morning from your hotel and drive about two hours East of Uganda where Jinja lies. Along the way, there are many Tea and Sugarcane plantations, Mabira forest which has different primates and birds. You will also visit the Bujagali Falls the converging point for many water Rapids.